Sparkling Hill Resort Dazzles Guests Via Maestro PMS and PurpleCloud Technologies Integration |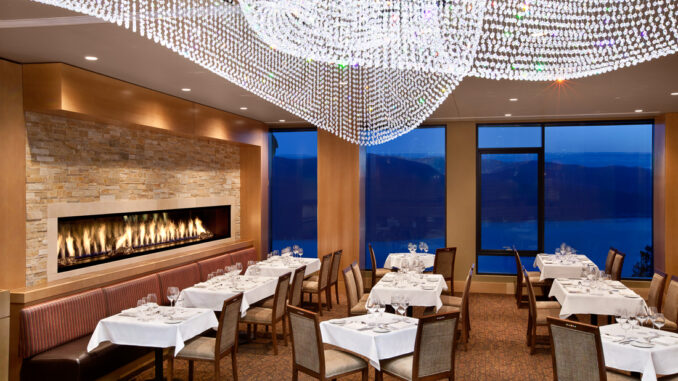 It's hard to imagine that anything could be more amazing than 3.5 million Swarovski crystals adorning the walls, ceilings, fireplaces and light fixtures at Sparkling Hill Resort & Spa in Vernon, British Columbia. Yet, communication between guests and staff at the European-style wellness retreat is shining even brighter, thanks to a recent integration partnership between Maestro PMS and PurpleCloud Technologies.
When the privately-owned resort opened its doors in 2010, Maestro PMS was there to power the property's front-desk, spa, and sales-and-catering operations and provide modules to manage analytics, club & spa, digital registration card, express check -out, gift cards, Maestro OBE, SMS messaging, work orders, WebPro and yield management. Then, the resort deployed the PurpleCloud Service Optimization Platform to increase productivity and decrease labor costs, especially in the housekeeping department. Soon Maestro PMS and PurpleCloud teamed up to connect the two solutions with the goal of easing communication between the front desk and housekeeping to boost guest satisfaction and add more transparency to the room-turn process.
"We knew from the onset that Maestro was the preferred choice for property-management technology," said Glorija Toplak, Assistant General Manager of Sparkling Hill Resort. "Their PMS was built specifically to manage the needs of independent hotels and luxury resorts, and the company has a beyond-stellar reputation for customer service. We started searching for a way to boost productivity among our housekeepers and maintenance staff and make tasks more enjoyable for everyone involved. We compared many service-optimization solutions in the market and found PurpleCloud to be the most user friendly and efficient. It provides quick visibility into employee productivity, insight into trends, and the missing transparency we were looking for in housekeeping.
"Because Maestro PMS has an open API, we knew it would be easy for them to integrate with PurpleCloud," she said. "The joint solution lets the front desk know the status of each room in the make-ready and inspection process and how long it will be before the room is ready for guests. Being able to share that information with people who have checked in and are waiting to get into their rooms is critical to their loyalty and satisfaction. The integration also provides transparency into the work order process and whether or not tasks have been completed or are still pending. The result is a more fulfilling workday for staff and a better overall experience for guests."
Soon, Sparkling Hill Resort will add the "gamification" feature of PurpleCloud. Gamification is a strategic approach to improving a business' operations, efficiency, and worker satisfaction by drawing on natural inclination to complete tasks that can be tracked and subsequently rewarded. For example, when rooms are cleaned and ready by a set time, associate room inspection scores improve. As work orders are completed and reported in real time, employees are audibly notified via their mobile device and reward points are calculated and assigned. Managers can leverage the PurpleCloud point system to keep track of employee productivity and convert points to prizes.
"The Housekeeping Module inside PurpleCloud tracks real-time check-ins and check-outs to create an efficient schedule based on true clean times and shares that information with Maestro PMS," said Adria Levtchenko, PurpleCloud Co-Founder and CEO. "Together with Maestro, we are eliminating inefficiencies in housekeeping and improving communications across the board. Today Sparking Hill is detecting and managing early arrivals, late checkouts and stay-over services better through the joint platform. Once the property goes live with gamification, it will keep their team members more engaged, working efficiently and feeling recognized. Over time this increases job satisfaction and reduces turnover."
Warren Dehan, president of Maestro PMS, had this to say: "Maestro's integration to PurpleCloud Technologies showcases our dedication to helping hotels deliver frictionless staff and guest experiences. Back-of-house employees need the right tools to do their jobs effectively and stay motivated, helping to boost morale and make their jobs more fulfilling. Our industry cannot afford to ignore the critical role these tools play in employee satisfaction. By connecting Maestro PMS and PurpleCloud, we are bringing hotels into the digital age where communication flows easily in two ways. Employees are much happier, and in turn, guests are too."
Does your company have news it would like to share with our readers? If so, we invite you to review our editorial guidelines and submit your press release for publication consideration.
Related